RANEPA St. Petersburg library is a successor of the library founded by the First Russian Parliament in 1906 to provide better information support for its activities. Further in 1926, after being the branch of the Russian Public Library, it received the status of the Library of Worker-Peasant University and thereby embarked on the historical path of RANEPA St. Petersburg.
For over 100 years the library has accumulated a rich collection of literature in social sciences covering economics, sociology, law, history, public administration, national economy, natural sciences and humanities.
All processes starting from an online bibliographer service, the ordering a book in a publishing house until it is picked up by the reader are automated: students and academic staff are provided with the e-catalog access and a wide range of electronic resources which are necessary for learning, teaching and research.
The library offers its users the scientific information resources of leading international publishers that make in-depth research in humanities and social sciences easier.
Use on-line resources and search across large collections of journals, data sets, newspapers, books and more to find the information you need.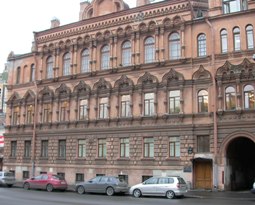 8-ya liniya, Vasilievsky Island, 61
Library Administration
Center for Research Information Support
Internet room
Rare books Department
Procurement Department
Scientific processing and cataloguing Department
Opening hours:
Mo-Fr 10.00 — 17.30
Sa, Su, last working day of each month – closed
Phone: (812) 328-20-72
Kindly note, you will not be able to borrow and return book at this address: to be issued with a library card, to return books please visit any other RANEPA St. Petersburg library (s. below)
Dnepropetrovskaya ul., 8, room 110
Library of:
Faculty of Economics and Finance
Faculty of Security and Customs
Faculty of Social Technologies
Opening hours:
Mo, Tu, Th, Fr 10.00 — 17.30
We 11.00 — 19.00
Break 13.00 — 13.30
Sa, Su, last working day of each month – closed
Phone: (812) 335-94-94, ext. 2405
7-ya liniya, Vasilievsky Island, 16/18, room 121
Faculty of Law Library
Opening hours:
Mo, Tu, Th, Fr 10.00 — 17.30
We 11.00 — 19.00
Break 13.00 — 13.30
Sa, Su, last working day of each month – closed
Phone: (812) 335-94-94, ext. 4220
3-ya liniya, Vasilievsky Island, 30-32, room 131
Library of:
Faculty of Public and Municipal Administration
Faculty of International Relations and Politics
Opening hours:
Mo, Tu, Th, Fr 10.00 — 17.30
We 11.00 — 19.00
Break 13.00 — 13.30
Sa, Su, last working day of each month – closed
Phone: (812) 335-94-85, ext. 1521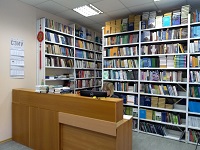 Budapeshtskaya ul., 38-6, room 222
Faculty of Secondary Vocational Education Library
Opening hours:
Mo, Tu, Th, Fr 10.00 — 17.30
We 11.00 — 19.00
Break 13.00 — 13.30
Sa, Su, last working day of each month – closed
Phone: (812) 335-94-94, ext. 18020
Please contact us at the e-mail lib-sziu@ranepa.ru